A Manhattan Icon
Although our doors are closed, our legacy remains.'21' was one of New York's social and culinary landmarks for 90 years. We invite you to explore our timeless history and revisit our fondest memories.We want to thank all our friends, fans and family for your unwavering support and the good times we shared.
Explore our history
An Illustrious Triumph
After an infamous raid in 1930, '21' founders Jack Kriendler and Charlie Berns enlisted architect Frank Buchanan to design a system of camouflaged doors, invisible chutes, quick-release bar shelves and a secret wine cellar. It worked––they were never caught again.
Discover more
21 Club Merchandise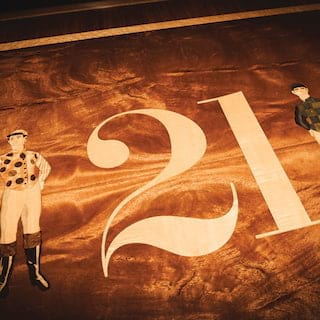 21 Club Merchandise
A range of "21 Club" branded merchandise is available to order by contacting merchandise@21club.com
Choose from a selection of items including caps, paper coasters, tote bags, enamel boxes, coffee mugs, aprons, sport and tee shirts, ties, cigar cutters and cast iron bottle openers. Gift certificates for merchandise are also available. 
We will advise you about shipping and lead times. Please note some items are currently out of stock.
View Price list