APPETIZERS
Soup du Jour
Chef's selection of seasonal classics
The Wedge
blue cheese, hardboiled egg, bacon, heirloom tomatoes
Chopped Salad
mixed greens, radicchio, beets, grilled butternut squash, radishes, fennel
carrots, tomatoes, parmesan, pumpkin seed oil, lemon vinaigrette
Deviled Eggs
black truffle, frisée, garlic croutons
MAIN COURSES
Faroe Island Salmon
Swiss chard, mustard cream
Red Wine Braised Short Ribs
sweet potato purée, blue cheese
Lemon Chicken
zucchini, fingerling potatoes
Mushroom Cavatelli
cream of porcini, creminis, parmesan (GF)
DESSERTS

Chocolate Lava Cake
spiced berry compote, vanilla ice cream
Pineapple Upside-Down Cake
rum raisin ice cream, caramel sauce
Rice Pudding
diced Fuji apple, dried cranberries
$48 per person. Reservations seated by 6:30pm.
Beverages, tax and gratuity not included.

Menu subject to change.
Please inform your Captain of any dietary restrictions or allergies.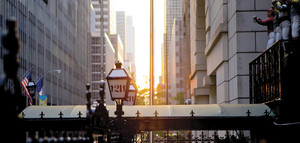 Book a dinner reservation for the Bar Room or Upstairs at '21' and get 6 hours of parking for $15 at Central Parking Garage, located in the CBS Building on 31 West 52nd Street.
Read more